'The city was underwater': quarter of a million Somalis flee flooded homesv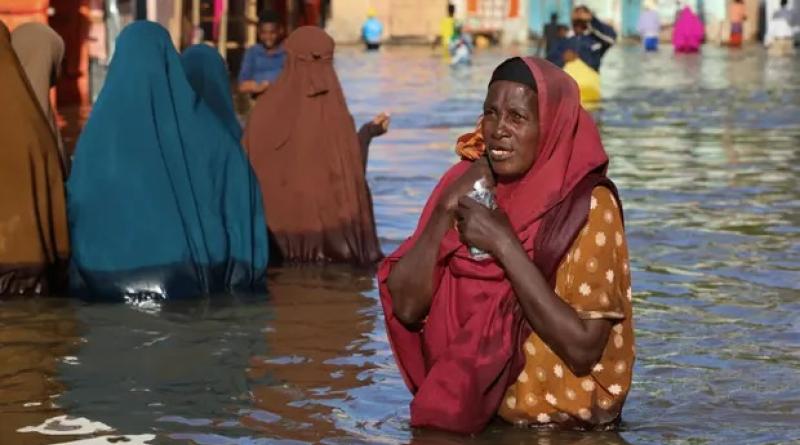 Floods have caused almost a quarter of a million people to flee their homes after the Shabelle River in central Somalia broke its banks and submerged the town of Beledweyne, even as the country faces its most severe drought in four decades, according to the government.
Aid agencies and scientists have warned that the climate crisis is among the most significant factors accelerating humanitarian emergencies, while those affected are some of the least responsible for CO2 emissions.
Seasonal rains in Somalia and upstream in the Ethiopian highlands triggered flash floods that washed away homes, crops and livestock, and temporarily closed schools and hospitals in Beledweyne, the capital of Hiiraan region, local residents said.
"At once the entire city was underwater. Beledweyne itself became like an ocean," said shopkeeper Ahmed Nur, whose business was washed away. "Only the roofs of the houses could be seen. We used small boats and tractors to rescue people."
Nur has been staying with relatives on the edge of the city which, just weeks earlier, had been celebrating the end of the crippling drought.
"Rain came, we were happy. People planted their crops," he said.
The drought, coupled with violence and a spike in food prices caused by the war in Ukraine, killed as many as 43,000 people last year, according to United Nations figures.
Since mid-March the floods have affected more than 460,000 nationwide and killed 22, according to the UN humanitarian office (OCHA).
The Somali Disaster Management Agency said the floods in Beledweyne alone have caused the displacement of more than 245,000 people.
"Recovery from six consecutive seasons of poor rainfall performance will take time," OCHA said in a report on 14 May.
The rains are recharging water sources and enabling vegetation to regenerate. But it will take far more rainfall to effectively alleviate the impact of the recent drought, OCHA said in a report.
After back-to-back disasters, one resident of Beledweyne, Halima Abdullahi, who has two children, said she had seen enough, making her one of the 216 million people the World Bank predicts could be compelled to move within their own country by 2050 because of climate stress.
"We shall move to villages far away," she said. "Beledweyne no longer exists."
cover photo:People in Beledweyne, central Somalia, make their way through flood water that washed away homes, crops and livestock. Photograph: Hasan Ali Elmi/AFP/Getty Images