Green steel will be key to driving the decarbonization of the Indian steel sector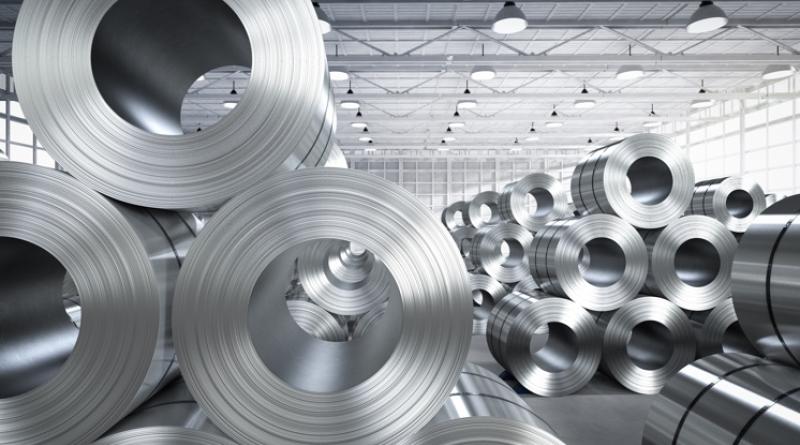 Green hydrogen will not dethrone coal as the main route of steelmaking in India until 2050, according to IEEFA
According to a new joint report from the Institute for Energy Economics and Financial Analysis (IEEFA) and JMK Research & Analytics , a clear definition of green steel is crucial for steel manufacturers to start investing in the right technologies.
The report also offers several policy recommendations for the Government to lay a solid foundation for the decarbonisation of the Indian steel sector. "Decarbonisation of steel production in India requires a vision on the part of policy makers to enable them to encourage the production of green steel," says Vibhuti Garg , co-author of the report and South Asia director at IEEFA.
"The first step is a definition of green steel, without which the technological path that the industry must follow remains unclear. India has to clarify that green steel will mean eliminating the use of fossil fuels in the production process," he adds. Since green steel production technologies have not yet become widespread anywhere in the world, the report finds that green steel costs almost twice as much as that produced traditionally.
"Given that steel is a very competitive raw material, it is unlikely that the market will absorb the premium for green steel without a strong impact on its dynamics. Therefore, the government needs to formulate policies that create demand for green steel and penalize carbon emissions from traditionally produced steel," says co-author Jyoti Gulia,  founder of JMK Research.
"Initially, in all government and public sector purchases, a certain amount of green steel should be mandatory. In future, the government may also expand the share of green steel purchases from private consumers," says co-author Kapil Gupta , manager at JMK Research.
Green Steel Certificates
"Green steel certificates can be another way to create demand. The Government can link green steel purchases with incentives through green steel certificates, which are tradable on the national carbon market for economic benefits. This move will support the creation of a green steel market for domestic steelmakers," says Gupta.
The report also recommends viability gap financing (VGF) to help bridge the gap due to the high upfront capital cost of low-carbon steelmaking technology. He notes that the Government can provide this VGF to encourage steel manufacturers to dedicate some of their capacity to green steel manufacturing.
Analyzing the different technological solutions currently available to reduce emissions from the steel industry, the report concludes that green hydrogen is the cleanest option. Another option is to produce steel from scrap in electric arc furnaces powered by renewable energy. However, it cannot completely replace other forms of production, since there are problems with the availability of high-quality scrap.
According to the report, the main problem with green hydrogen is its high cost. To address this, the Government has launched an ambitious National Green Hydrogen Mission in order to promote national production of this fuel.
"For hydrogen technology to be viable for expansion, the required price should be around $1-2/kg and a carbon penalty of at least $50 per ton of emissions should be applied to steel made using traditional methods. This can make green steel competitive and catalyze a shift of 150 million tonnes from coal-based to hydrogen-based steelmaking, primarily the direct reduced iron (DRI)-EAF route," says Gupta.
Coal will continue
The report predicts that green hydrogen will not dethrone coal as the main way to make steel until 2050, and that its use will increase from 2030.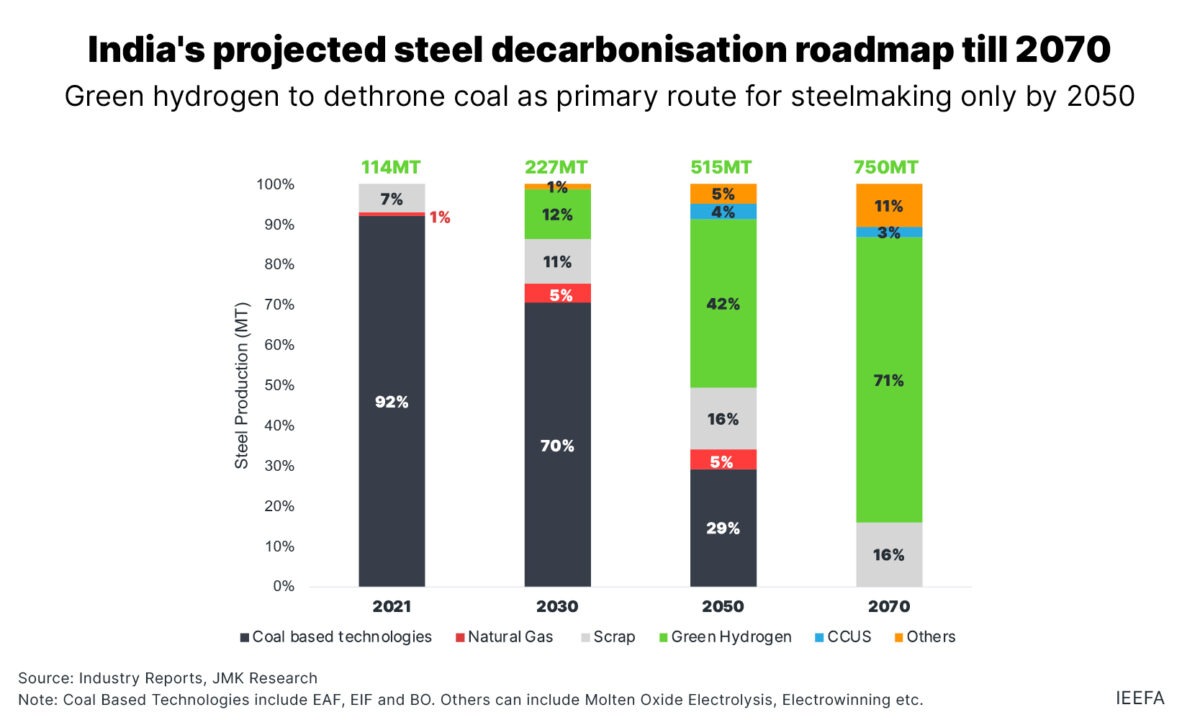 "Between 2030 and 2050, green hydrogen projects will be deployed on a large scale across India due to high demand. This is likely to eliminate coal-based steelmaking routes at a faster pace. We estimate that the steel industry will replace around 25-30% of its gray hydrogen needs with green hydrogen in early 2030-2050. This figure will increase to 80% by 2050," says co-author Nagoor Shaik , Senior Research Associate at JMK Research.
"Global sustainable finance markets hold great promise in providing large-scale capital for the decarbonization of large businesses. "Sustainability-linked bonds and loans have been considered suitable for financing industrial decarbonization around the world," says co-author Shantanu Srivastava , Head of Sustainable Finance and Climate Risk at IEEFA.
"Innovative financing products, such as blended financing mechanisms, will play an important role in the initial growth of low-carbon solutions for the country's steel sector. Support will be needed in the form of technical assistance grants, guarantees and risk insurance, and capital on favorable terms in the various phases of the technology life cycle," he adds.