LAC Climate Week 2022 Opens with Strong Calls for Action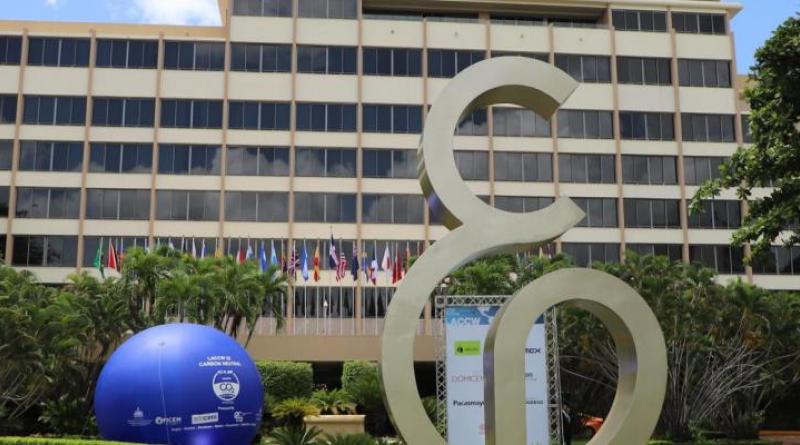 UN Climate Change News, 19 July 2022 – The public-facing segment of this year's Latin America and Caribbean Climate Week (LACCW 2022) opened in Santo Domingo today with strong calls for regional action to drive global action to tackle climate change and urgent warnings of growing regional climate impacts, including more frequent floods, droughts and storms.
At the opening ceremony, President of the Dominican Republic Luis Abinader was joined by Ministers from 21 countries from across the region and officials from key UN and other multilateral agencies. LACCW 2022 will run through 22 July and marks an important regional step towards an effective outcome at the UN Climate Change Conference COP27 in November.
Dominican Republic Environment Minister Miguel Ceara Hatton said: "The Dominican Republic is on the front line of climate change impacts so we must be on the front line of action. As a small island state in a region known for extreme weather, we must protect our future and contribute to global goals. We are proud to bring together governments, regional stakeholders and civil society to collaborate on our common challenge."
Acting UN Climate Change Executive Secretary Ibrahim Thiaw recognized the importance of bringing together all stakeholders at LACCW 2022 to advance action in a spirit of inclusive multilateralism. He said:
"Under the Paris Agreement, national governments are leading efforts to combat climate change, but they cannot achieve the goals of the Agreement alone. At any major turning point in human history, you will find collaboration - whether by choice or necessity - is what ultimately drove progress. That's why LACCW 2022 is so important. It provides a space and an opportunity for governments, the private sector, and other non-governmental organizations to forge partnerships that will drive climate action in a meaningful way."
In addition to hosting LACCW 2022, the Dominican Republic is leading by example, having adopted an ambitious climate action plan (Nationally Determined Contribution) under the Paris Agreement, NDC-RD 2020. Despite a small climate footprint, the Dominican Republic aims to reduce greenhouse gas emissions by 27% by 2030 and build resilience across key sectors in response to the country's vulnerability. The national climate plan is at the core of the country's economic recovery and long-term development planning, with private sector partnership a feature of the NDC-RD 2020.
Dr. Max Puig, Executive Vice President of the National Council on Climate Change of the Dominican Republic, said: "Last year's COP26 showed us the powerful need to get people to the discussion table and advance the climate agenda. LAC Climate Week 2022 allows us to carry forward the decisions from Glasgow here in Santo Domingo. This is an opportunity for active participation of stakeholders from across the region, including civil society, academia and national and local governments. Climate action is a path to a better future in the Caribbean and around the world, and collaboration is needed to move forward together."
UN Climate Change Deputy Executive Secretary Ovais Sarmad said: "Everyone must be active and engaged in implementing the Paris Agreement – governments need to lead of course, but there cannot be effective climate action without the private sector, investors, youth, academia and civil society. You can see why Latin America and the Caribbean Climate Week is so important. All these groups are here today, ready to roll up their sleeves and get to work. Over the course of this Climate Week, I encourage us all to be inspired by the commitment and determination of our host."
United Nations Development Programme Administrator Achim Steiner said: "Latin America and the Caribbean is increasingly feeling the effects of a changing climate. People in Argentina, Uruguay, Brazil and Paraguay experienced their hottest days in history in 2022. Yet we are seeing how countries across the region are forging ahead with new levels of ambition -- from Antigua and Barbuda, which aims to reach net-zero greenhouse gas emissions by 2040 to Uruguay where 97% of its electricity already comes from renewable sources. This LAC Regional Climate Week will bring countries and communities together to share new and practical ways to advance climate pledges and ultimately slow the steady march of climate change."
About LACCW 2022
LACCW 2022 is hosted by the Government of the Dominican Republic and organized by UN Climate Change in collaboration with global partners UN Development Programme, UN Environment Programme and the World Bank Group. Partners in the region include the Economic Commission for Latin America and the Caribbean (UNECLAC) the Inter-American Development Bank (IDB) and Euroclima LAC.
About Regional Climate Weeks
LACCW 2022 is part of the Regional Climate Weeks 2022 series. The series continues with Africa Climate Week 2022 in Libreville, Gabon from 29 August to 1 September. MENACW 2022 kicked off the series in March in Dubai and engaged almost 4,000 people over four days.
The RCWs were strongly endorsed in last year's Glasgow Climate Pact adopted at the UN Climate Change Conference COP26 November, which recognized the Climate Weeks as a platform for credible and durable climate action.
Visit www.regionalclimateweeks.org to explore the Regional Climate Weeks 2022 and see how they are making a difference on climate change in key regions. The hashtag for the meeting in #ClimateWeekLAC.
Information for the media
For media inquiries, contact UN Climate Change at press@unfccc.int. For inquiries specifically about the Regional Climate Week, also in Spanish, please contact Siyad Fayoumi,  SFayoumi@unfccc.int
For more information, visit www.regionalclimateweeks.org
Join the conversation on social media using the hashtag #ClimateWeekLAC