Launch of the Global Hub on the Governance for the SDGs.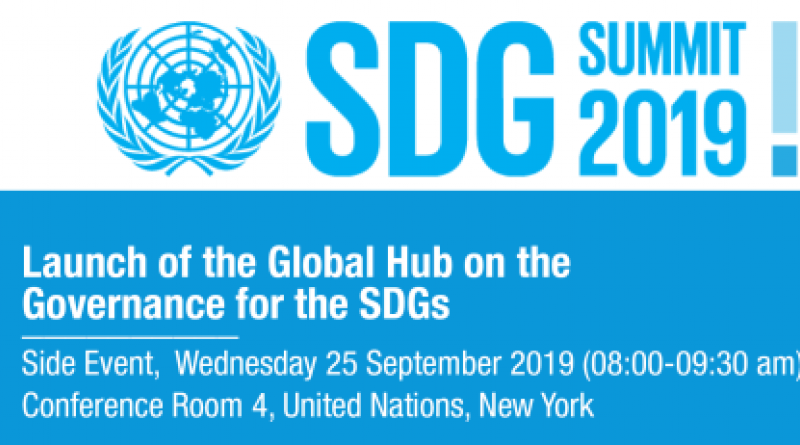 Policy Coherence for Sustainable Development
Speakers include:

•    Mr. Angel Gurría, Secretary General, OECD
•    Mr. Achim Steiner, Administrator, UNDP
•    Mr. Iván Duque Márquez, President of Colombia (TBC)
•    Ms. Viorica Dăncilă, Prime Minister of Romania 
•    Mr. Ruhakana Rugunda, Prime Minister of Uganda 
•    Ms. Evelyn Wever-Croes, Prime Minister of Aruba
•    Ms. Ohood Al Roumi, Minister of State for Happiness and Wellbeing, 
Director General of the Prime Minister's Office, United Arab Emirates
•    Ms. Cristina Gallach, High Commissioner for 2030 Agenda, Spain
•    Ms. Gabriela Agosto, Executive Secretary of the National Council for Social Policy Coordination, Argentina

Reaching our collective international commitments under the 2030 Agenda for Sustainable Development will require political leadership and scalable multi-stakeholder action. Governments will need to coordinate, consult and work across policy areas in an unprecedented way to dramatically accelerate progress. Achieving the 2030 Agenda will also demand the effective use of planning, budget, procurement, monitoring and evaluation processes, to better align priorities and to enhance transparency and accountability. 

You are warmly invited to participate in the launch event for the Global Hub on the Governance for the SDGs, a joint OECD-UNDP initiative, which aims to facilitate targeted support to interested countries tackling the specific governance challenges of SDG implementation. It will provide a space to build leadership capacity on critical governance issues, and for national experts and practitioners to interact and learn from each other, in support of the achievement of the 2030 Agenda. The Hub will align with other existing and planned SDG initiatives to leverage the full potential of SDGs 16 and 17 as key enablers of the entire 2030 Agenda.

Please use the below button to register, by 19 September latest.

For more information, please email us or visit our webpage.

Registration to this event is open to those who will already hold UN Grounds Passes during the High-level week.

19 September 2019
OECD