'Lightbulb moment': the battery technology invented in a Brisbane garage that is going global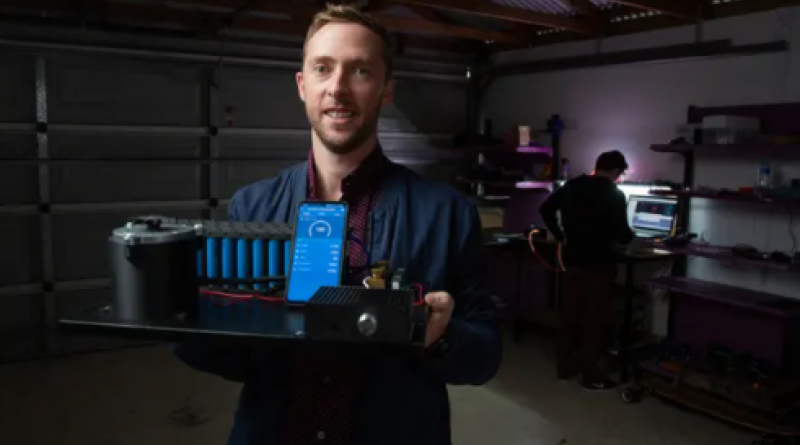 Dominic Spooner's startup Vaulta is working on a reusable battery casing to create less waste and a lighter product
As some of the world's largest companies invest billions to advance battery technology, Dominic Spooner has been working at solving the next problem: the impact of unwieldy – and environmentally unfriendly – battery casings.
Spooner runs his lightweight battery casing technology firm Vaulta from a shared garage in Brisbane's north. "Batteries will change our lives in ways that we're maybe not even totally aware of, but … we can create our own new group of problems if we're not careful," he says.
From a workspace surrounded by packing boxes and other junk, like an old door, Spooner and his team have caught global attention.
This year Vaulta has signed agreements with aerospace and car battery companies, including one with Braille Battery – an American manufacturer of ultra-lightweight batteries for Nascar, IndyCar and the Australian Supercars.
Last month the company received a $297,500 federal grant to commercialise its technology.
For those still sceptical about the extent and pace of global innovation being directed towards battery technology, the International Energy Agency says patents for energy storage inventions have grown four times faster than the rest of the technology sector, and are set to catalyse clean energy transitions around the world.
In 2020, Samsung spent US$710m (A$950m) on research and development of next-generation electric vehicle (EV) batteries. An Israeli firm has this year begun production of an EV battery that can charge in five minutes.
'We've got time now to do it right'
So how does a tiny garage-bound Brisbane startup find its place among global giants in the rush to innovate?
"It seems like almost every other day there are tech advancements – in the cells, cell types, cell shapes, cell geometry – coming out of the US or Europe," Spooner says.
"But the way they're being packaged, the way they're being housed, was just being overlooked."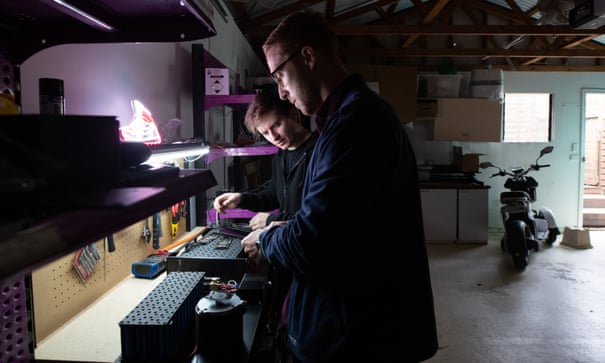 Vaulta's technology reduces the number of components used in battery cases. The casings reduce the battery size by about 18%. They also don't weld parts together, which means they can be taken apart and reused rather than dumped – a start on preventing some of the 98% of disused batteries that goes into landfill.
Spooner says the "lightbulb moment" was a decision to work towards making a casing that could be disassembled.
July 2021
The Guardian