The COP26 Climate Action Plan: Sign the letter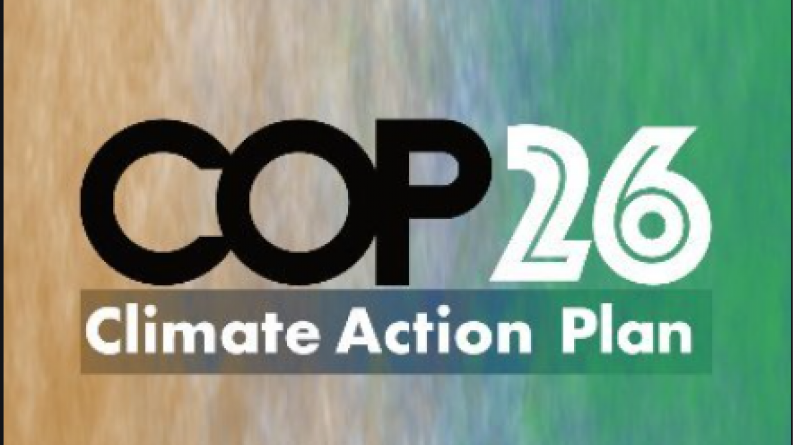 In 2020, Prime Minister Boris Johnson's UK government took the world-leading decision to put an end to public finance for fossil fuel projects(1) overseas. That same government should now take further steps before this November's UN Climate Change Conference of the Parties (COP26)(2), and set out a historic climate action plan to ban ALL new fossil fuel financing and production.

Climate solutions require urgent action, which is why we are suggesting the following within 90 days:
● Following the Biden Climate Summit(3), the UK should release a draft Climate Action Plan communique as a pre-COP26 conference resolution. New fossil fuel finance, subsidies, and insurance should be replaced with equivalent flows into renewables.
● HM Treasury and the Bank of England should jointly develop a UK climate finance plan to end all new fossil fuel financing by year end 2021, in accordance with article 2.1c of the Paris agreement(4).
● A core COP26 priority should be aligning finance flows with the development needs of the 'global south' and transition communities. Provide capacity and skills-based training to Commonwealth members to develop individual national strategies to end all new fossil fuel financing by year end 2021.
Specifics
The Intergovernmental Panel on Climate Change (IPCC) Paris Agreement declared that more than 1.5°C of heating represents extreme danger. Therefore, our goals must be to mitigate risk of global collapse through bold and rapid decarbonisation and to stabilise the very foundations on which life depends. The UK Climate Change Committee(5) has warned the Government to prepare for 4°C of heating. Globally we face a wildfire future awash with unknowns. London and many coastal cities could become unviable.
The new U.K. climate finance plan would end all subsidies as shown by the World bank(6) and International Institute for Sustainable Development report(7). Stopping all fossil fuel financing across public and private sector value chains should be a core priority for COP26. This has a projected value of at least $700 billion(8) and well over $2 trillion per annum after subsidies are added.
During COP26, large multinational corporations must, for the first time, be required to set out their Scope 3, Task Force for Climate-related Financial Disclosure (TCFD)(9) carbon footprints as a mandatory requirement starting year end 2021. 
Aligning national frameworks for a draft global climate finance plan with 20% improvement in Nationally Determined Contributions (NDCs)(10), and including new Corporate Defined Contributions, by year end 2021.
Measurables
The IPCC's P1 trajectory(11) shows that the use of coal, oil, and gas needs to drop by 78%, 37% and 25% respectively, by 2030 compared to 2010 levels to keep warming limited to 1.5ºC. 
Section 2.3.2.2 of the 2018 special report(12) of the IPCC says "to keep warming below 1.5°C... the cumulative amount of CO2 emissions from 2018 onwards needs to remain below a carbon budget of 420 GtCO2". 
Despite this stark warning, the world continues to emit over 40 Gt of CO2 per year according to the same report. "This would leave 0–9 years to bring down global emissions from Nationally Determined Contribution (NDC) levels of around 40 GtCO2 yr−1 in 2030 (Fawcett(13) et al., 2015; Rogelj(14) et al., 2016a) to net zero."
The IPCC isn't perfect. These measurements do not fully take account of losses of greenhouse gas sinks through neo-colonial deforestation in Amazonia, Equatorial Africa, or the Pacific Islands, or the uncertainties of nonlinear carbon cycles and climate systems(15). But they are useful indicators.
Proven fossil fuel reserves will (as reported in British Petroleum's Statistical Review(16) of World Energy with CO2 emission factors from the IPCC) yield 3,600 Gt of CO2 emissions. Therefore we can only afford to burn one twelfth of the fossil fuels we have already found.

Achievements and Momentum
In July 2017, Fortune Magazine reviewed research that found the top 100 polluting firms account for 71% of the global human carbon footprint(17).  
The UK Parliament's Public Accounts Committee(18), referring to the current government's 10point plan(19) said: "Government has set itself a huge test in committing the UK to a net zero economy by 2050 - but there is little sign that it understands how to get there and almost two years later it still has no plan… COP26 is a few months away, the eyes of the world, its scientists, and policymakers are on the UK - big promises full of fine words won't stand up. "
Momentum away from continued finance of the fossil fuel industry, is shown by the following:     
In late 2019, the European Investment Bank's(20) new Energy lending policy(18), stated: "We have decided to phase out the financing of unabated fossil fuel energy projects, including natural gas, by the end of 2021". The EIB president(22) also explicitly pronounced "gas is over."

A November 2020(23) UN Sustainable Energy for All initiative report(24) concluded that "financing of fossil fuel projects as a means of closing the energy access gap should be terminated" because it locks countries "into decades of carbon emissions, import dependency, and stranded asset risk."

The European Council, 25 January, 2021 meeting conclusions(25) said "the EU's energy diplomacy will discourage further investments into fossil-fuel-based infrastructure projects in third countries, unless they are aligned with an ambitious climate neutrality pathway, and will support international efforts to reduce the environmental and greenhouse gas impact of existing fossil fuel infrastructure" and made a renewed call for a clear timeline.

Following the US president's 27January 2021 Executive Order, a coalition including Friends of the Earth and Oil for Change replied on 18 March 2021 and asked for greater specificity and an immediate end to US support for overseas fossil fuel projects. The Biden administration have proposed a White House climate summit(26) on 22 April 2021 where "the United States will announce an ambitious 2030 emissions target as its new Nationally Determined Contribution under the Paris Agreement". 

On 14 April 2021 seven European countries(27), committed to stopping public export guarantees for fossil fuel projects. However, the commitment lacks specific phase-out dates and the explicit involvement of the US, the G20 or the OECD. Showing that a progressive, focused COP26 can realistically adopt this.

 
Relevant scope
This Climate Action Plan proposes to phase out all new fossil fuel financing and insurance(28). Therefore, making emissions disclosure along the lines of the 2021 CDP(29) or scope 3 TCFD methodology(30) must be a mandatory requirement by the end of 2021. Ending subsidies and finance should be matched by new investments in renewable energy and sustainable development of the same value.
Under our plan, for the first time the top 100 largest corporate polluters will sign up to a moratorium on funding new fossil fuel projects in principle and practice. Adding private sector contributions is a new component that helps the COP26 Climate Action Plan set a new standard after the Paris Agreement.
The pending, pre-COP26 draft communique must cover all fossil fuel debt financing, insurance and annuity products, and equity investments, and end government subsidies across the full fossil fuel value chain.

In addition:
The new UK infrastructure bank(31) will pursue a net carbon negative mandate(32). The bank should focus on carbon negative projects(33). The bank should also enable partnering private finance institutions to fill their skills gaps.

Declare an immediate moratorium on new fossil fuel funding and all UK participation in other institutions - including the Multilateral Development Banks and the IMF within 90 days - effective year end 2021. 

Invite the Commonwealth to define a unified approach to end all fossil fuel subsidies and align national climate finance plans, and to examine their collective carbon footprints and use citizens' assemblies to determine preferred domestic policy.

Develop a UK-led Climate Action Plan that closes insurance markets(34) to all new fossil fuel insurance globally(35) within 90 days. This is a crucial element to the ending of private finance for new fossil fuel projects. With rapid decarbonisation of urban transport and energy, pollution-related health risks could follow from this, stabilising insurance products within these areas. In the longer term, this could also enable reassessment of climate change related flood and adverse weather risks, saving these markets from the need for government intervention. 

Develop a UK-led Climate Action Plan aligned to the US, China, Russia, and other members of the G7(36), using the UK presidency of the forum to attempt to secure additional Nationally Determined Contribution consensus and by ending subsidies, insurance, and finance of new fossil fuels projects.

Timeline for outputs:
90 days after the Biden Climate Summit, the UK should release a draft Johnson communique as a pre-COP26 conference resolution to end all new fossil fuel finance globally from year end 2021 - A Climate Action Plan.
The UK G7 meeting in June presents an opportunity to reach agreement to end all new fossil fuel financing amongst this group. Such progress would provide further momentum for the suggested pre-COP26 communique.
Also within 90 days, alongside the government Climate Action Plan(37) HM Treasury and Bank of England should publish a UK Climate Finance Plan(38) that specifies article 2.1c of the Paris agreement and ends all new fossil fuel finance by 31 December 2021. It is critical that renewable energy strategies in less-developed countries and transition communities receive priority. 
By developing climate plans(39) that end all subsidies and new fossil fuel finance across all public and private institutions by 31 December 2021, this COP26 agreement can redefine our future.
6 May 2021
COP26 CLIMATE ACTION PLAN