Korean firms urged to work harder to cut gas emissions.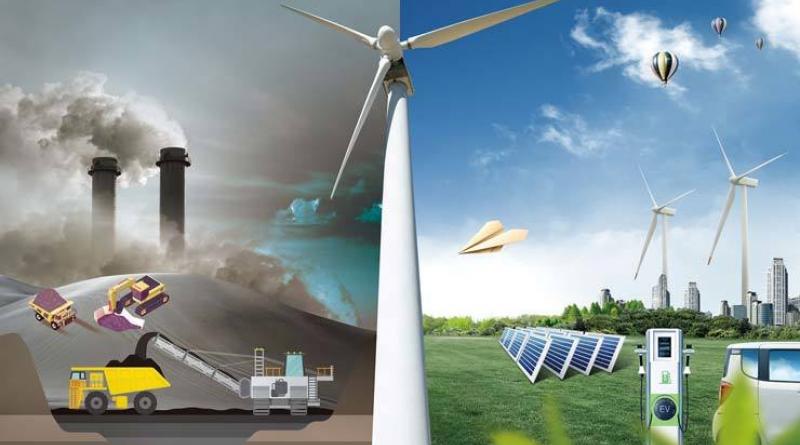 Corporations around the world use two-thirds of the electricity produced globally. 

Meanwhile, here in Korea, companies consume over 50 percent of the electric power generated from coal-fired power plants that contribute 30 percent to 40 percent of greenhouse gases emitted in the country.

There is a public consensus, supported by the government that the country needs to make more efforts to reduce its dependence on coal and to use renewable energy as a substitute. 

Local companies, the main consumers of electricity generated by the coal-fired plants, need to make efforts to switch to the use of renewable energy, but environmental experts say they have a noncommittal attitude toward such calls. 

"Two hundred and three corporations around the world have joined the global Renewable Energy 100% campaign as of the end of September, including companies such as Google, Apple and BMW," Kim Ji-seok, a climate and energy specialist at Greenpeace Seoul, said in an interview with The Korea Times. "However, there are no Korean firms on the list, not a single one," he added.

"There are two ways for local companies to replace their energy sources with renewable energy. One is to build their own power plant and the other is to purchase the energy from a renewable resources power generator. However, the latter is not legal here. Besides, electric power generated by such plants accounts for only 3.5 percent of the total electricity used in Korea, which is way too small to meet market demand," Kim said.

The climate and energy specialist also said local firms lack the will to change, as they are satisfied with the current electricity price they pay to the Korean Electric Power Corp. (KEPCO), the state-run firm which controls the majority of the electricity generation market and has a monopoly over the sale of electricity here. 

Kim argued that domestic companies can also find other ways to become environmental-friendly, such as LG Chem, Samsung SDI and SK Innovation which have built battery factories in Poland and Hungary where energy purchases between companies and renewable energy generators, a Power Purchase Agreement (PPA), is allowed.

"The PPA system is well established in Eastern Europe and labor costs are cheap. Batteries produced with renewable energy are also in demand by global brands. This is just one example," Kim said. 

Experts say growing global interest in the climate crisis and relevant regulations will affect Korean companies going forward.

The International Monetary Fund (IMF) has recently noted that the world will have to raise carbon tax 37 times over the next decade from $2 per ton to $75. 

Europe has also decided to strengthen its regulation on the emission of carbon dioxide from vehicles, to prevent cars from producing more than 95 grams of greenhouse gas per kilometer traveled. 

In every sense, the specialist says it is better for local firms to start to go eco-friendly for their long-term futures and not settle for the present situation if they don't want to fail. 

The Ministry of Environment (MOE) agrees that the climate change issue has become serious and urgent enough so that private enterprises here need to take action against it.

"The government recognizes some efforts made by local corporations but they are still not enough compared to those of foreign companies, especially those from developed countries," a ministry official said under condition of anonymity. 

"But to be honest, the rate of greenhouse gas emission reductions by local companies is insubstantial. They don't have the engineering technology to build systems that will cut down on greenhouse gas emissions. Some of the technologies we tried to buy from developed countries did not fit local companies' manufacturing systems," the official said. 

Another major factor attributing to high rate of greenhouse gases in Korea is cars running on diesel and gasoline. 

According to Greenpeace Seoul, the country's No. 1 carmaker Hyundai and Kia Motors emitted 401 million gross tons of carbon dioxide equivalent last year, which was the fifth-largest globally behind Volkswagen, Renault Nissan, Toyota and General Motors. 

Kim claimed that all internal combustion engine cars must be replaced with electric vehicles. 

He said an average car emits 53.8 gross tons of carbon dioxide in its life-cycle, which is seven times higher than the 7.6 gross tons that a low-carbon electric car charged with renewable electricity emits over the same time.

"The environment ministry is promoting a campaign to reduce emissions to one gross ton of greenhouse gas per person, but if you exchange one conventional car for an electric car, you can reduce 30 gross tons of greenhouse gas emissions or more over its lifetime. EVs are not perfect but they can effectively deliver a reduction," Kim said. 

Last year, the Intergovernmental Panel on Climate Change (IPCC) advised countries to cut greenhouse gas emission by 45 percent by 2030 against 2010 emissions level. 

Greenpeace requested the German Aerospace Centre to run a study to find out how to meet the IPCC's recommendation, and the institution said all production of internal-combustion engine cars must be halted by 2028 at the latest.
3 November 2019
The Korea Times