Africa needs financial support to adapt to climate change.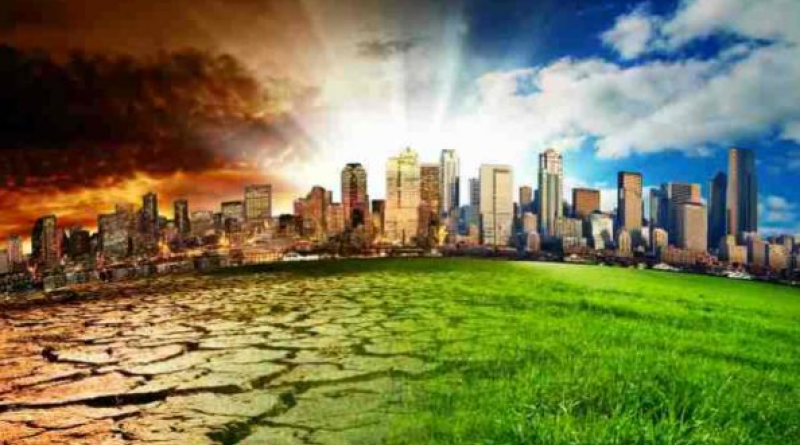 Financial support for Africa to adapt to climate change is crucial, UN Secretary-General António Guterres said as he addressed an online dialogue for leaders convened by the African Development Bank (AfDB).
He appealed for greater action to provide renewable energy to the hundreds of millions who still lack reliable and affordable electricity. "As the continent that has contributed least to the climate crisis, Africa deserves the strongest possible support and solidarity," said Guterres.
Pointing out that although Africa has abundant and untapped renewable resources, it has received just 2% of global investment in renewable energy over the past decade, warning that "adaptation must not be the neglected half of the climate equation".
Old models of development and energy use have failed to provide Africans with universal energy access, he said, meaning hundreds of millions of people still lack reliable and affordable electricity or are cooking with polluting and harmful fuels.
"We can provide universal access to energy in Africa primarily through renewable energy. I call for a comprehensive package of support to meet this objective ahead of COP26," Guterres said, referring to the UN climate change conference in November.
"It is achievable. It is necessary. It is overdue. And it is smart: climate action is a $3 trillion investment opportunity in Africa by 2030," he added.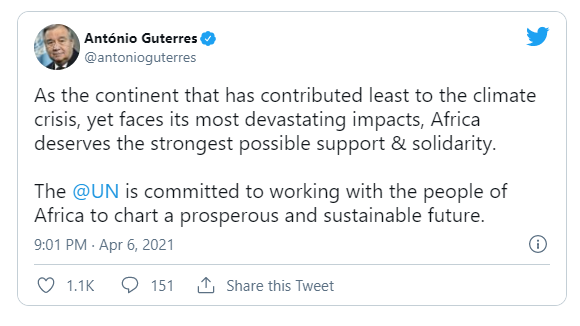 Major finance gap between climate finance commitment and action
The secretary-general pointed to "the major finance" gap blocking progress towards this goal. He urged developed countries to deliver on their $100 billion climate commitment more than a decade ago.
"Developed countries and main financers must ensure a swift shift of the billions to support African green investments, to increase resilience and to create the conditions for scaled-up private finance. And the private sector must step up and get organised to provide immediate, concrete solutions to governments. Local authorities can work with unions and community leaders on reskilling and social security nets," said Guterres.
While African governments also can lead the way by committing to ambitious adaptation and mitigation plans, they first need to regain their fiscal autonomy, he said. The UN chief stressed the need to extend the debt moratorium for developing countries, made last year in response to the COVID-19 pandemic, and even cancelling debts where appropriate.
Guterres said he thought Special Drawing Rights, a type of supplementary foreign reserve maintained by the International Monetary Fund (IMF), should be made available to support Africa's economic recovery.
Africa's new infrastructure needs to be able to adapt to shocks
Even as the AfDB has worked with its regional member countries to fight the negative effects of climate change, the Bank has also been urging them to build infrastructure that is adapted and resilient to climate shocks.
Africa has lost billions of dollars in infrastructure and thousands of people due to cyclones and storms in Mozambique, Zimbabwe and Malawi in 2019 alone. Floods in 2020 led to hundreds of deaths and thousands of internally displaced persons in the Sahel.
The AfDB believe Africa can mitigate the consequences of such climate shocks by building more resilient infrastructure and strengthening early warning and climate watch mechanism. Thus, the Bank encourages its regional members to integrate the "climate shock" dimension into the construction of essential infrastructure such as roads, bridges, stations, dams and airports.
Al-Hamadou Dorsouma, head of the AfDB's Climate and Green Growth Division confirmed that African needs to build infrastructures that are resilient to climate shock: "This is all the more important as this destruction amounts to billions of dollars. If these infrastructures had been built on a climate resilience scheme, they would have better withstood cyclones, storms and flood.
"It is important for Africa, whose future infrastructure over a 50-year horizon has not yet been built, to strengthen its resilience and secure its investments in this sector," said Dorsouma.
7 April 2021
ESI AFRICA