Earth Hour 2021 Shines a Virtual Spotlight on the Natural World.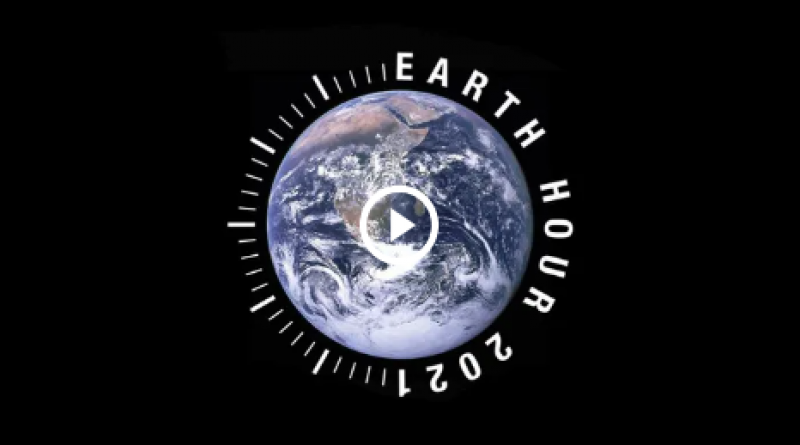 On Saturday, March 27, people around the world will celebrate the annual Earth Hour, albeit in a slightly different way.
This annual tradition, first launched by World Wildlife Fund (WWF) and its partners in Sydney in 2007, involves participants from more than 180 countries switching off their lights on the last Saturday in March in order to call attention to the climate crisis and biodiversity loss. This year, the organizers are adding something extra: a virtual spotlight that can be shined on the Earth by sharing their video.
Our goal is simple," organizers wrote. "Put the spotlight on our planet and make it the most watched video in the world on March 27 (or beyond!) so that as many people as possible hear our message."
The virtual spotlight comes about a year into the coronavirus pandemic, as many countries remain under some type of safety regulation. While COVID-19 necessitates an online celebration, it also reflects the importance of protecting the natural world.
"Protecting nature is our moral responsibility but losing it also increases our vulnerability to pandemics, accelerates climate change, and threatens our food security," WWF International Director General Marco Lambertini said in a press release. "We must stop taking nature for granted, respect its intrinsic value, and — importantly — value the crucial services it provides to our health, wellbeing and economy."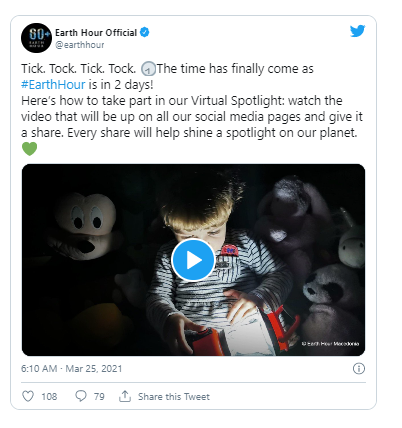 This year's Earth Hour also comes at a crucial moment in the international push to protect the world's plants and animals. In a few months, world leaders will gather in Kunming, China, for the Conference of the Parties to the Convention on Biological Diversity. Scientists, activists and the UN are hoping the summit will result in an agreement to protect 30 percent of land and oceans by 2030.
Earth Hour said they hoped their video would build momentum toward this conference. At the same time, UN Secretary-General Antonio Guterres recorded a video in support of Earth Hour.
"In this make or break year, let your actions and voices send a clear message to leaders everywhere," Guterres said. "Now is the time to be bold and ambitious. Let's show the world that we are determined to protect the one home we all share."
This year's Earth Hour will also include the traditional lights-out celebration. Major landmarks, including the Eiffel Tower, Tokyo Skytree, Hong Kong's Victoria Harbor, Brandenburg Gate in Berlin, the Colosseum in Rome, Sydney Opera House and Gardens by the Bay in Singapore, will all go dark. Anyone can join by simply turning off lights for an hour beginning at 8:30 p.m. local time.
To participate online, keep an eye on Earth Hour's pages on Instagram, Facebook and Twitter and share the video when it drops. It can be added to a social media story, reposted or even sent in private messages.
'We urgently need to take action to prevent further degradation of our natural world, for securing our own future," John Kani, an actor and environmentalist who will lend his voice to the video, said in the press release. "Join me this Earth Hour when we collectively raise our voice for nature to secure a greener, healthier future for all."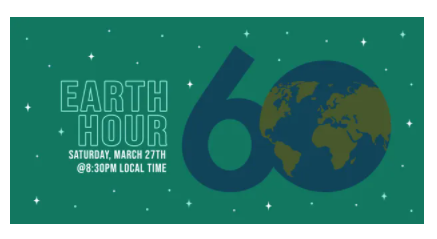 25 March 2021
EcoWatch