Mozambique and Democratic Republic of Congo Sign Landmark Deals with World Bank to Cut Carbon Emissions and Reduce Deforestation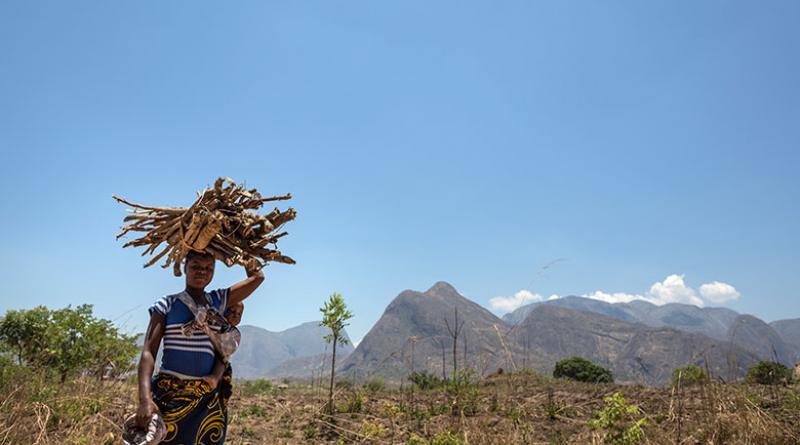 When I tell people that I am a forest specialist, they sometimes assume my work is forest first, people second. But the really exciting part of my job is that better forests make better communities.
There is mounting evidence that forest management improves people's livelihoods all over the world. Standing forests are worth much more than cut ones and we are setting out to prove this in Mozambique, where protecting forests is among the fastest and most affordable ways to cut emissions and promote sustainable development.
Standing forests contribute to the achievement of sustainable development goals (SDGs) related to food, water, health, energy, security and biological diversity. With 34 million hectares (ha) of natural forests, covering 43% of the country, forests are an important contributor to the country's economy and a source of employment, income, and livelihoods in Mozambique's rural areas.
The forest sector contributed about $330 million to the country's gross domestic product (GDP) in 2011 and directly employed 22,000 people. Forests provide goods and services to local communities, including food, energy, medicine, construction materials and furniture. In some rural communities, miombo woodlands contribute almost 20% of household cash income and 40% of subsistence (non-cash) income.
"Our business relies on our forests, so it is in our interest to protect them" says Geraldo Sotomane, owner of a timber and construction company in Zambézia.
However, rapid deforestation is threatening rural ecosystems and livelihoods, with the loss of already approximately 48% of forest cover across the country. A large percentage of logging in Mozambique is conducted without planning, regulation or management. The adverse impacts on forest structure places excessive pressure on protected and valuable animal species, besides leaving large swaths of land susceptible to fire.
Deforestation in Mozambique has been decreasing since the program started in 2013. And now the country could be rewarded for this reduction in the deforestation rates if this trajectory continues.
Mozambique has just signed one of the first Emission Reduction Payment Agreements (ERPA) with the Carbon Fund of the Forest Carbon Partnership Facility (FCPF), unlocking $50 million to support the country's ongoing efforts to reduce carbon emissions from its forest sector. With this ERPA in place, Mozambique can begin implementing its Emission Reductions Payment Project in nine districts of the Zambézia province and continue to receive results-based payments for verified emissions reductions from the FCPF Carbon Fund until the end of 2024.
To improve natural resource management and promote rural development, the World Bank is supporting the government through the Integrated Landscape Management (ILM) Portfolio to sustainably manage natural resources and support the communities that depend on them.
"Investing in people should always be the priority," said Marcos Victor, vice president of COGERFFN – a pioneering organization aimed at helping communities access forest resources through commercial concession contracts. "With help from the World Bank, we have developed new forestry management plans and identified possible private sector partners to build profitable and sustainable forest concessions that stop illegal deforestation and economically benefits local people."
Creating Opportunities for a New Forestry Economy
In Mozambique, the REDD+ objectives are ambitious; between 2013 and 2018, the country received $8 million in grants from the FCPF to prepare a National REDD+ Strategy, a forest monitoring system, a forest reference emissions level, and to consult different stakeholders regarding the strategies to reduce deforestation.
The World Bank and its partners, through the FCPF Carbon Fund, are strengthening their commitment to supporting ambitious programs, like this one in Mozambique. In December 2018, Germany's Federal Minister for the Environment, Nature Conservation, and Nuclear Safety (BMU) announced an additional contribution of EUR15 million to accelerate the implementation of REDD+ programs in Africa.
I have been with the ILM portfolio since its inception. For me, it is so rewarding to witness the real progress Mozambique has made in reducing the deforestation rates and to see the country now in a position to receive payments for reducing emissions.
Mozambique is engaged in a pilot project for REDD+ in two provinces, including Zambézia, establishing a series of new management and monitoring programs, such as promotion of conservation and climate smart agriculture; promotion of key sustainable supply chains (agriculture and forests); development of multi-purpose plantations and restoration of degraded lands; strengthening protected areas management and the implementation of the Zambézia Landscape Program (ZILMP).
ZILMP is curbing deforestation by supporting sustainable multi-purpose plantations that provide local jobs, supply wood for energy, construction and industry, and at the same time reforest these landscapes. These plantations are working to meet local demands for timber and nontimber products while restoring ecological services to degraded land and supporting local food supply.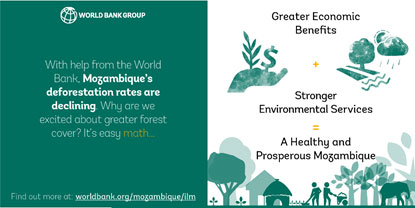 "We dream of developing community-run multi-purpose plantations that protect our native forests from logging while also bringing economic and ecological benefits to the local people," said Antonio Macaula, President of ANAWAPE, a group of farmers in the Gilé District of Zambézia who are working together to promote conservation and safeguard their shared natural heritage. "With more income we can then invest back into our land and into other economic areas, but always with the spirit of preserving out natural environment."
12 February 2019