Greenpeace Africa activists successfully stormed the international cricket match between England and South Africa, demanding clean air.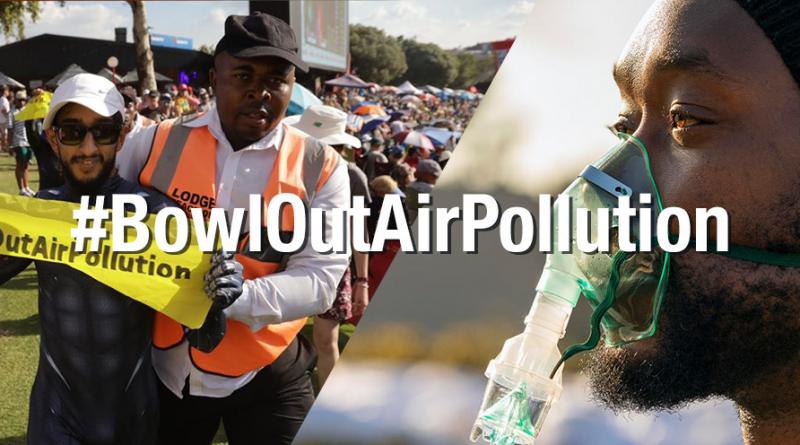 Yesterday afternoon, at least ten fearless Greenpeace Africa activists successfully stormed onto the SuperSport Park cricket field during the international T20 cricket match between England and South Africa.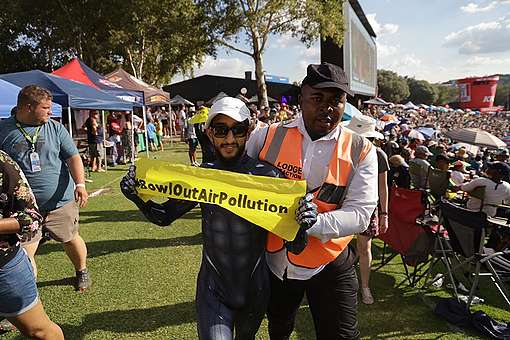 Dressed in superhero clothing, the activists gathered on the audience benches and waited for the right moment to launch onto the field and head to the cricket players. With air pollution masks in hand, their goal was to hand them to Proteas captain Quinton de Kock and his team.
Another team of activists dropped a banner from a floodlight in the stadium next to the scoreboard that read: "Toxic air is not just a game #BowlOutAirPollution". This was to highlight the danger that air pollution poses to people's health, even to our sporting heroes.
The ten brave activists were arrested yesterday and will appear in court today. In the meantime, you can stand in solidarity with them by sending this letter to Minister Barbara Creecy. Ask her to strengthen the air quality limits in South Africa and ensure full compliance. 
New research from Greenpeace Southeast Asia and the Center for Research on Energy and Clean Air (CREA) shows that air pollution from burning fossil fuels – primarily coal, oil, and gas – is attributed to an estimated 4.5 million deaths each year worldwide. Included in that is a shocking 13 000 premature deaths in 2018 in South Africa alone.
We can no longer dispute the devastating costs of burning fossil fuels, not just for our rapidly heating planet, but also for our health. The air pollution from fossil fuels is a toxic death-pill as millions of lives across the world are lost prematurely every year. To add to that, our risk of stroke, lung cancer and asthma increases due to air pollution.
Join the activists and millions around the world who are demanding solutions, tell the Minister of Environment, Forestry and Fisheries, that enough is enough - it is time to act on air pollution! 
17 February 2020
Greenpeace AFRICA